Seydisfjordur is the most charming town in Iceland – it would be hard to find someone who wouldn't agree with that. Imagine a small fishing town at the end of the world, full of picturesque colourful houses, located in the mouth of a majestic fjord, surrounded by steep, dramatic mountains and waterfalls. It's a place where the time has stopped.
When we visited Seydisfjordur (Seyðisfjörður), a small town situated in Eastern Iceland, for the first time, it immediately made our hearts beat much faster. We had the opportunity to live for a year and a half close by, just 27 km away.
Whenever we had a chance, we went there for a stroll or to spend some time in one of the cosy little cafes. Compared to Egilsstadir, where we lived, Seydisfjordur has so much to offer when it comes to having a good cappuccino or espresso. We also loved to come here to take some pictures. The town and its picturesque surroundings are a real paradise for all photographers.
In the arms of the fjord
You can easily fall in love with the town even before you get there. It will put a spell on you much earlier. The secret lies in its extraordinary location. Seyðisfjörður was built in the mouth of a spectacular fjord, which surrounds it from all sides.
The first inhabitants of the town were Norwegian fishermen, who came here in 1848. Today you can find traces from those times without any difficulties. Many houses built by the Norwegians still stand in Seydisfjordur.
Seyðisfjörður allures all the travellers not only with its location, but also with its architecture. Plenty of charming buildings definitely create its unique character. All the small old houses have fabulous colours: blue, red, pink and many shades of green. Local people told us that even when they had to deal with harsh and dark winter, colourful buildings would always cheer them up.
Getting to Seydisfjordur: scary mountain pass
Despite Seydisfjordur's close proximity to the capital of East Iceland – Egilsstadir, you can sometimes get an impression that it's almost the end of the world. It's mostly because, in order to get here, you have to go all the way over a steep mountain pass called Fjarðarheiði. Measuring over 600 m, it's one of the highest road mountain passes in Iceland.
Keep in mind that it's the only road which connects Seydisfjordur with the rest of the island. Just imagine this special moment when you get to the top and after some time the town starts to appear far away in the distance. Believe us – you won't forget this view for a long time.
When you plan to visit Seyðisfjörður in the summer, crossing the steep mountain pass is not a problem at all. But it's a completely different story in the winter. All the difficulties start in late autumn. Then the road easily can make your hair stand on even if you are the most experienced driver.
The Fjarðarheiði pass without any warning can change into a mountain ice rink. There have been lots of serious accidents here. Last autumn we also experienced a dangerous situation.
Decorate your home with original Icelandic prints by Adam Biernat!
We were heading to Seydisfjordur late evening to get to the ferry. It was early November and winter came without any warning. In a matter of hours, everything was covered in a thick coat of snow. Even though it looked fabulous, we didn't enjoy the ride. Not at all. Conditions were really severe and despite the winter tires, our car was dancing on the ice from time to time.
Adam tried to stay calm all the way, but I could see the drops of sweat on his forehead all the time. We drove 20 km/h and prayed not to end in the abyss. Even today day we feel goosebumps when we think about that evening.
Be very careful if you plan to drive across Fjarðarheiði after the season and don't try to make it without spikes or snow chains when it's icy. We didn't have them, like most people that day. No one was expecting winter. When we got to Seydisfjordur, we heard at the gas station that there had been a serious accident. Just 15 minutes before we arrived. A big 4×4 which we saw on the way down didn't make it to the other side of the mountain.
Maritime gateway to Iceland
For many travellers Seydisfjordur is a gateway to Iceland. Every week the ferry called MS Norröna (Smyril Line) arrives in the town from Denmark. Last year we had an opportunity to travel by ferry to Iceland and it was really a great adventure. It's difficult to describe our feelings when we saw Icelandic dramatic coastline in the distance for the first time. In the morning light, it looked fabulous.
Seyðisfjörður looks unimaginably stunning from the water. Lots of tiny houses cast at the foot of dramatic mountains. This special light of the north, the sound of the waves and lots of seabirds. It's too beautiful to be real. Only the cold breeze of the arctic air on your cheeks reminds you that you aren't dreaming.
Many people right after leaving the ferry start their trip around Iceland. That's a big mistake! Seydisfjordur is so charming, that it's worth spending there at least a day.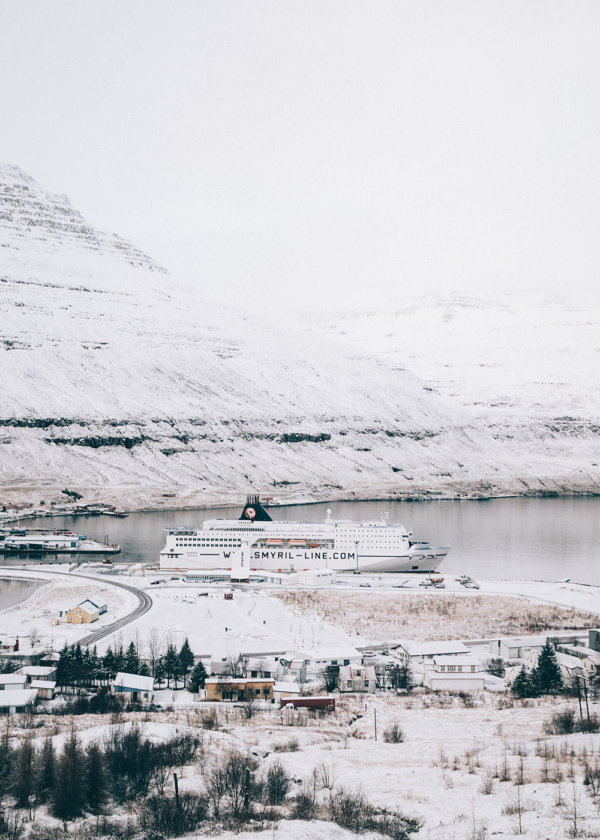 TOP 10 things to do in Seydisfjordur
1. Visit the lovely blue church Bláa Kirkjan
Bláa Kirkjan is the most famous building in Seydisfjordur, and it is well known all around Iceland. It looks especially picturesque in the winter. The town is really small, so it's impossible not to notice the blue church. In the summer you have a chance to go to a concert in the church.
2. Relax in one of the cosy local cafes
We especially recommend Skaftfell Bistro. Apart from delicious coffee, cakes and home-made ginger lemonade, they serve excellent pizza. We like this bistro because of its special atmosphere and the collection of art books. It's great to seat there for a while chatting or waiting for the aurora to appear in the winter.
3. Check out what contemporary art is all about at Skaftfell Center for Visual Art
Skaftfell Art Centre, located right over the bistro, is the most active contemporary art gallery in East Iceland, and one of the best in the whole country.
4. Try local beer brewed in Kaffi Lara
Café Lara, which you can find very close to the Blue Church, is one of the few places in Iceland, where you can try beer brewed on-spot.
5. Go for a long walk around the town
Since the town is very small, you can discover all of its corners on foot. Every time we go for a walk, we can't resist choosing our favourite dream house to live. Don't forget about all the spectacular waterfalls and dramatic mountains. And fill your lungs with the incredibly fresh air.
6. Try your hand at sea kayaking
There's something special about Seyðisfjörður seen from the water. Don't worry if you don't have any experience at sea kayaking. You can go for a kayak adventure with a guide, who knows all the secrets of the fjord. The kayaking season is June 1 – August 31.
7. Visit the local swimming pool
If the weather is bad, apart from relaxing in the cafes, you can also visit the pool. We prefer open-air pools in Iceland, but this one is really nice.
8. Listen to uncanny Tvisongur sound sculpture
In the mountains above Seyðisfjörður, you can find an interesting concrete sculpture called Tvisongur by a German artist Lukas Kühne. When it's windy, it makes a peculiar sound. It takes around 45 min to get to this spot. Apart from the sculpture, you will have a chance to see a fantastic view over the town.
9. Checkout Seydisfjordur panorama from Mt. Bjólfur viewpoint
To get there you have to drive up Fjarðarheiði pass, where on the right-hand side you will find a gravel road. After around 5 km you will reach the viewpoint. It's best to have a 4×4 here, but you can also get there in a regular car. The road is usually open from June until September. That's one of the best fjord views in the whole country. Don't miss it!
10. Go for a day hike in the mountains around Seydisfjordur
If you have more time, then we definitely recommend going for a hike in the mountains around Seydisfjordur. The fantastic thing is that in the area there are quite a few of rarely visited trails.
Hiking around Seyðisfjörður
Even though Iceland has become extremely popular recently, you still won't have any problems with finding off-the-beaten-path hiking trails. Everywhere around Seydisfjordur, you don't have to push your elbows through the crowd. Thus, it's a great way to discover Iceland from your dreams – unspoiled and deserted.
There are many great trails which start in the town or close by. The most spectacular hiking trail leads from Seyðisfjörður over the mountain peaks to the next fjord called Mjoifjordur. It has around 12 km and it takes a day to complete it. There's no public transport in Mjoifjordur, so most hikers return the same way the next day.
On the way, you can count on really scenic views. Without any doubts, Mjóifjörður will make a great impression on you. What's more, it is the most inaccessible and also one of the most fabulously located settlements that can be visited in Iceland. This is another place in Iceland which we truly love.
Mjoifjordur has a completely different character than Seydisfjordur and its charm lies in something else. The settlement and its areas are wilder and more disturbing.
More adventurous travellers don't return to Seyðisfjörður taking the exact same route, but instead choose to hitchhike. In this case, you have to be patient because often the traffic from Mjoifjordur is extremely low. We've managed to hitch-hike to Mjoifjordur twice, so it's possible. Just be patient.
Before hitting the trail, supply yourself with a decent map. We recommend maps published by Mál og Menning. You can get them in bigger bookstores in Iceland. There are also usually a few of them at most gas stations, but not necessarily the ones you need.
READ MORE about Mjóifjörður: Mjóifjörður: Feel the Green!
Art vibes
In Seydisfjordur you can be as thick as thieves with art. The town has a unique, artistic atmosphere. It stuns the imagination. Often the ideas just fly to your mind. It is an ideal place for all activities related to art.
In the summer, around mid-July, Seydisfjordur transforms into the art capital of Iceland. That's all because of an art festival called LungA. This little town becomes full of art buffs from all over Iceland. Apart from many art projects which you can find in all corners of the town, there are also lots of concerts. Believe us, listening to fantastic live music during the midnight sun nights is a real treat.
When it comes to Seydisfjordur's connections with the art world, it's worth mentioning that a Swiss artist Dieter Roth (1930-1998) fell in love with this fishing town. This world-famous artist, who belonged to Fluxus group, used various forms of artistic expression: he created installations, painted, sculpted and created art books.
Iceland started to play a very important role in Roth's life in 1957 when he married an Icelandic student Sigríður Björnsdóttir. After the wedding, they moved to Reykjavik. Although Dieter's relationship with Sigríður didn't last forever, his affection for Iceland never disappeared.
In later years he spent plenty of time on the island but decided not to return to Reykjavik. Instead, he chose charming Seydisfjordur. Decades ago it seemed even more isolated from the rest of the world.
Seydisfjordur is also well-known for its artist residency program. Young artists come here from all over the world. If you are an artist dreaming about creating in such an inspiring place, you can find more information about the residency program here: Skaftfell Residency Program.
Seyðisfjörður hotels – where to stay?
There are plenty of accommodation options in Seyðisfjörður. For example, you can spend a night in an old pretty house which was some time ago a pharmacy (The Old Apothecary Guesthouse) or in a former hospital (Hafaldan HI Hostel). You don't have to look for accommodation located in the so-called city centre. Seyðisfjörður is so tiny, that everything is in the centre. If you visit Iceland in the summertime, remember to book a room well in advance.
During our last visit to Seydisfjordur, for the first time we had a chance to see it under the cover of snow. It looked so fairy and magnificent that we almost couldn't believe our eyes. Every time when we are here, we start to think about moving to Iceland for good. If we finally decide to do it, we will settle down in this insanely beautiful town. We have no doubts about it.
If you are planning a trip around Iceland, you must be wondering what else to see in the East Fjords. Have a look at our TOP 13 things to do in East Iceland.
Liven up those empty walls!